ANNOUNCEMENT January 6 2023: HymenopteraMine v1.6 is now available, with 58 new species. We are in still in the process of updating the BLAST databases, Download and Publication pages.
HGD BACKGROUND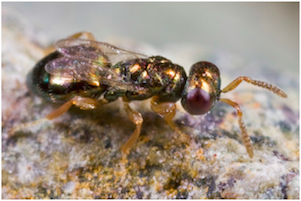 Nasonia vitripennis. ©Oliver Niehuis
The Hymenoptera Genome Database is a genome informatics resource that supports the research of insects of the order Hymenoptera (e.g. bees, wasps, ants). HGD provides tools for data mining (HymenopteraMine), sequence searching (BLAST), genome browsing (JBrowse), genome annotation (Apollo) and data download.
HymenopteraMine is a data mining tool that integrates all of the genomes in HGD with biological data from a variety of sources. The goal of HymenopteraMine is to accelerate genomics analysis by enabling researchers without scripting skills to create and export customized annotation datasets merged with their own research data for use in downstream analyses. HymenopteraMine facilitates cross-species data mining based on orthology and supports meta-analyses by tracking identifiers across gene sets and genome assemblies.
HymenopteraMine v1.6 has 116 hymenopteran species, with Gene Ontology annotation and ortholog data for all species. The HymenopteraMine Taxonomy page lists all the species in their taxonomic context. See the HymenopteraMine release update page for more information. Users of older releases should click here to learn about transitioning to a new HymenopteraMine release.
A chapter on Hymenoptera Genome Database in the Methods in Molecular Biology volume "Eukaryotic Genomic Databases" focuses on HymenopteraMine:
Elsik C.G., Tayal A., Unni D.R., Burns G.W., Hagen D.E. (2018) Hymenoptera Genome Database: Using HymenopteraMine to Enhance Genomic Studies of Hymenopteran Insects. In: Kollmar M. (eds) Eukaryotic Genomic Databases. Methods in Molecular Biology, vol 1757. Humana Press, New York, NY. doi: 10.1007/978-1-4939-7737-6_17
Click here to download a free preprint.
How to Cite:
1) Cite the use of HGD and HymenopteraMine with the most recent HGD publication:
Walsh AT, Triant DA, Le Tourneau JJ, Shamimuzzaman M, Elsik CG. Hymenoptera Genome Database: new genomes and annotation datasets for improved GO enrichment and orthologue analyses. Nucleic Acids Res. 2022 Jan 7;50(D1):D1032-D1039. doi: 10.1093/nar/gkab1018. PMID: 34747465.
2) Cite the appropriate consortium publication for the genome you used.
Please contact us if you have any questions or suggestions for HGD.